Billingshurst & District Lions Club
Billingshurst Men's Shed Gets Off the Ground
Facilitated by the Lions, the Billingshurst Men's Shed project is now off the ground - literally.
Initiated in January 2021, early progress was slow due to Covid lockdown and difficulty finding
a suitable central location for a "Shed".
In the meantime "Shedders" first used premises with the kind permission of the Unitarian Chapel
and then at the Scout hut in Lower Station Road, where small projects could be undertaken.
After several refusals, a suitable permanent site was eventually located in the far corner of Station Road Gardens.
But then the planning application was beset by long delays for a variety of reasons,
including who owned different parts of the land and water neutrality issues,
until it was accepted this was irrelevant with no plans for a water supply or drainage on the site.
Two redundant sheds were located, dismantled and stored to make a reasonable sized workshop on prepared foundations.
Work has now progressed using a unique system of Ground screws,
with a series of metal posts literally screwed into the ground to carry a subframe clear off the ground,
as shown in the photographs
.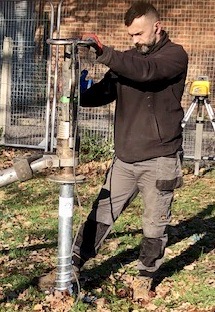 In spite of the name, emanating from its origins in Australia,
the Billingshurst Men's Shed is open to women as well as men and there is currently a core of active members.
Now that things are moving, anyone interested in joining to meet new friends and for fellowship is invited to contact
David Ambrose, Tel: 01403 786284 or E-mail: billimensshed@outlook.com
Lions Charity Golf Day - Thursday 25th May 2023
Arrangements are now in hand for the ever popular Billingshurst Lions Charity Golf Day at the Slinfold Golf and Country Club, with all proceeds this year for Chestnut Tree House Hospice.
Entries are invited for teams of four, all male, all female or mixed. Stableford scoring will apply using Full Handicap.
Billingshurst Lions Golf Days always represent excellent value with golfers knowing that they are supporting a deserving charity.
Entry fees include refreshments on arrival and a meal after the golf, followed by the usual range of excellent prizes.
For full information and how to enter, please contact Roger Skillin, 01403 700221, or e-mail roger.skillin@talk21.com.

Community Service and Projects,
especially with Fund Raising including:-
Race Night on Saturday, 18th March,
proceeds shared between Scouts attending the 25th World Scout Jamboree 2023 in Korea
and Billingshurst Boxing Club

Car Boot Sales
on Easter Monday, 10th April; 1st May Bank Holiday;
Spring Bank Holiday, 29th May and Summer Bank Holiday, 28th August.

Easter Egg Prize Draw, in the weeks before Good Friday

Follow Billingshurst & District Lions on Facebook & website billingshurstlions.org
And - don't forget, Bookshop Gift Vouchers are available all year round for family or friends.